S&P Dow Jones just released their February Case Shiller Home Price Index which shows the nation's home prices hitting their 4th consecutive all time high. Although the Chicago area can't make the same claim the Case Shiller Chicago index did rise in the rankings of 20 metro areas based upon a 6.2% year over year increase in single family home prices. That was our biggest one year gain in 32 months and it places us tied with Detroit (Yeah, I know. I guess Detroit is coming back) for 11th place. That is also a larger gain than the nation as a whole which rose by 5.8%.
Condo prices rose by 5.4% over last year, the same as last month's figure, which is the largest gain in 2 years. The historic one year gains in both condo and single family home prices are graphed below.
Looking at the seasonally adjusted numbers it does seem as though the Chicago area is now performing better than most of the other metro areas so we should continue to rise in the rankings.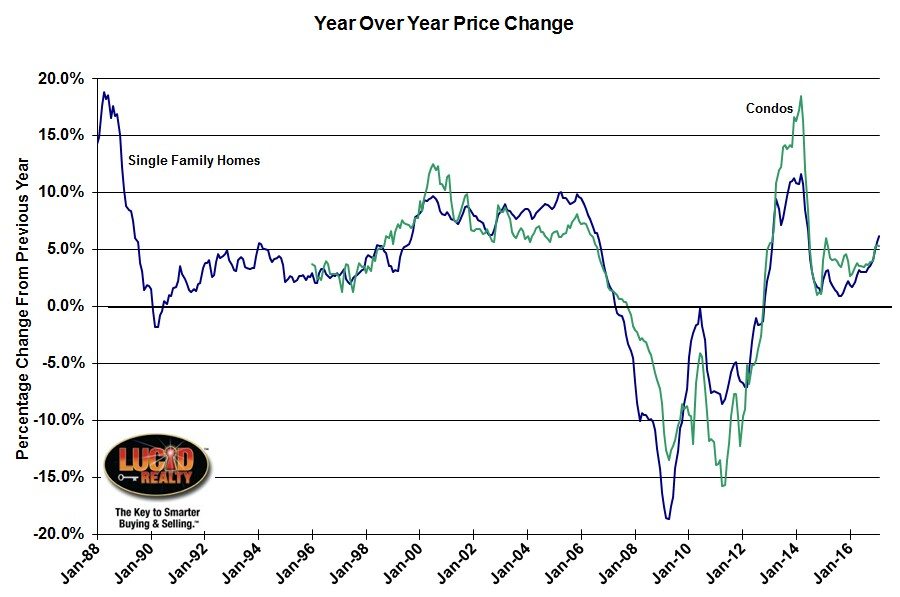 David M. Blitzer, Managing Director and Chairman of the Index Committee at S&P Dow Jones Indices, attributes the strong price gains to the exceptionally low inventory levels that we are experiencing. That is certainly what's driving price gains in the Chicago area:
There are still relatively few existing homes listed for sale and the small 3.8 month supply is supporting the recent price increases. Housing affordability has declined since 2012 as the pressure of higher prices has been a larger factor than stable to lower mortgage rates.
Case Shiller Chicago Home Price Index By Month
The historic Case Shiller Chicago area home price indices are graphed below along with a trend line for single family home prices based upon the pre-bubble period. In February single family home prices were up 0.2% from January while condo prices rose by 0.3%.
As you can see we still have a long way to go to get back to peak prices and an even further distance to go to catch up to the trendline. Single family home prices are still 19.0% below peak and condo prices are 13.6% below peak so we are probably still 2 – 3 years away from returning to those levels given our current rate of advancement. And we are 24.6% below the trendline.
The good news of course is that single family home prices have risen 32.9% from the bottom and condo prices are up 43.0% from those dark days. But just to give you a bit more historic perspective…single family home prices are still below where they were during the entire 5 year period from December 2003 through December 2008 and condo prices are below where they were from May 2004 through February 2009.


#ChicagoHomePrices #CaseShiller
Gary Lucido is the President of Lucid Realty, the Chicago area's full service discount real estate brokerage. If you want to keep up to date on the Chicago real estate market, get an insider's view of the seamy underbelly of the real estate industry, or you just think he's the next Kurt Vonnegut you can Subscribe to Getting Real by Email using the form below. Please be sure to verify your email address when you receive the verification notice.