When US single family home prices hit a sixth consecutive monthly high and the top 20 metro areas register an average 5.7% gain in home prices over the last year while Chicago is still struggling to get back to the housing bubble peak and only registers a 3.3% year over year gain…well….that's sadder than even last month. According to today's release of the Case Shiller home price indices for Chicago and 19 other metro areas in May Chicago fell to last place for year over year gains.
That paltry 3.3% year over year gain in the Case Shiller Chicago index is the smallest in 7 months and leaves us in the dust compared to Seattle with a 13.3% gain. Chicago condo prices did a little better with a 4.0% gain over last year but that's still the lowest gain in 6 months.
The history of year over year gains in prices for both types of homes is plotted below. Both types of homes have shown year over year gains consistently now for 55 months.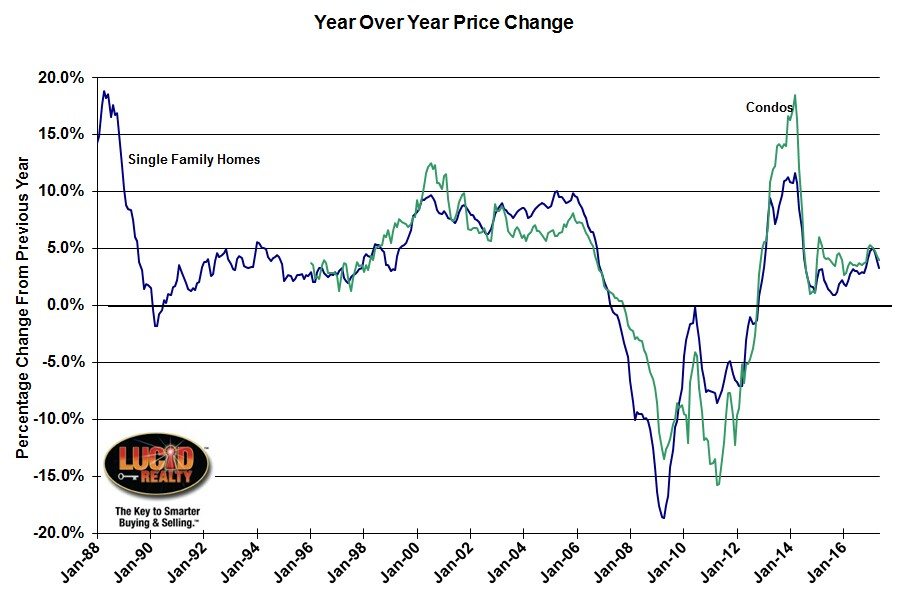 David M. Blitzer Managing Director and Chairman of the Index Committee at S&P Dow Jones Indices, dismissed the idea that a new bubble is forming (definitely no sign of it happening in Chicago). He basically says that home prices are being driven higher by fundamental factors such as population and employment growth combined with low home inventory levels:
Home prices continue to climb and outpace both inflation and wages. Housing is not repeating the bubble period of 2000-2006: price increases vary across the country unlike the earlier period when rising prices were almost universal; the number of homes sold annually is 20% less today than in the earlier period and the months' supply is declining, not surging. The small supply of homes for sale, at only about four months' worth, is one cause of rising prices. New home construction, higher than during the recession but still low, is another factor in rising prices.
For the last 19 months, either Seattle or Portland OR was the city with fastest rising home prices based on 12-month gains. Since the national index bottomed in February 2012, San Francisco has the largest gain. Using Census Bureau data for 2011 to 2015, it is possible to compare these three cities to national averages. The proportion of owner-occupied homes is lower than the national average in all three cities with San Francisco being the lowest at 36%, Seattle at 46%, and Portland at 52%. Nationally, the figure is 64%. The key factor for the rise in home prices is population growth from 2010 to 2016: the national increase is 4.7%, but for these cities, it is 8.2% in San Francisco, 9.6% in Portland and 15.7% in Seattle. A larger population combined with more people working leads to higher home prices.
Case Shiller Chicago Home Price Index By Month
The graph below shows the monthly Case Shiller Chicago index numbers for both single family homes and condos. From April to May single family home prices rose by 1.0% while condo prices rose by 1.1%.
You can plainly see in the graph below that we have quite a way to go to recover fully to the bubble peak as I mentioned above. Single family home prices are still 17.5% below the peak while condos are 10.3% below the peak. Although single family home prices are at the highest level since December 2008 they are still below where they were in April 2004. And condo prices are also at their highest level since December 2008 but still below their December 2004 level.
Speaking of shortfalls…single family home prices are lagging that red trendline I created below based upon the pre-bubble period by 23.9%. That line has long since surpassed the bubble peak and sets a much higher target for us.
But we can take comfort in the fact that we've made a lot of progress from the bottom. Single family home prices are up 35.4% while condo prices are up a whopping 48.5%.


#ChicagoHomePrices #CaseShiller
Gary Lucido is the President of Lucid Realty, the Chicago area's full service discount real estate brokerage. If you want to keep up to date on the Chicago real estate market, get an insider's view of the seamy underbelly of the real estate industry, or you just think he's the next Kurt Vonnegut you can Subscribe to Getting Real by Email using the form below. Please be sure to verify your email address when you receive the verification notice.