The title of this post could just as easily have been: Chicago Area Home Price Growth Falling Off A Cliff. Check out the graph below which incorporates the latest data from the November Case Shiller home price index released this morning. On a year over year basis Chicago area single family home prices still rose at a healthy clip – 7.7% to be exact – but that's way down from the peak of 13.1% back in June and almost at a 2 year low. But what is interesting is that home prices in the rest of the country, which rose at a much faster rate over the last couple of years, are now falling faster than the Chicago area. Consequently, Chicago now ranks 7th out of 20 metro areas in terms of annual appreciation. That's up from 9th place when the Case Shiller indices were released last month and up from near the bottom of the list over much of the last 2 years. At this point both the 10 and 20 city composite indices are running below Chicago at 6.3% and 6.8% respectively and the national average is the same as Chicago. Condo price appreciation is also pulling back and is now down to 5.2%.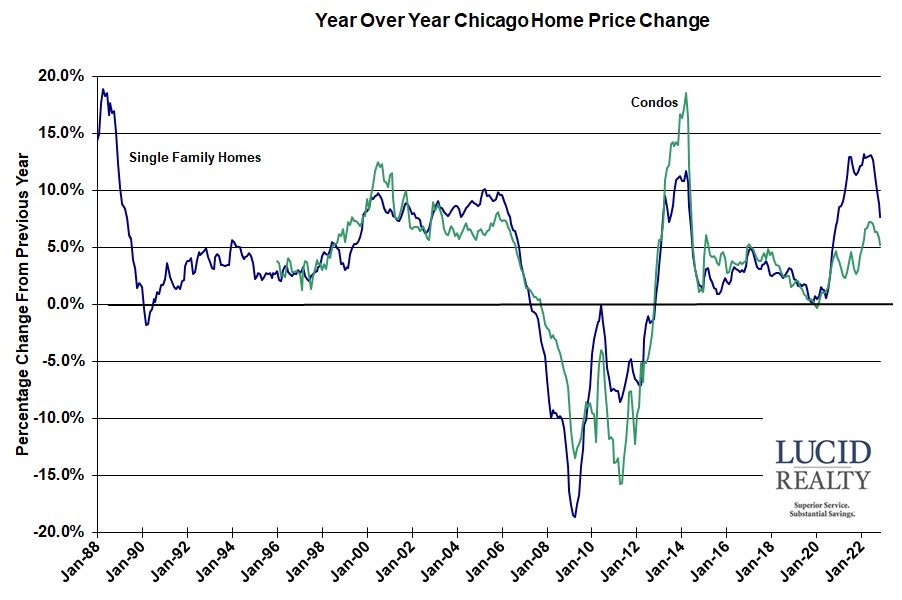 Craig J. Lazzara, Managing Director at S&P DJI, warns that home prices are likely to continue to decline:
As the Federal Reserve moves interest rates higher, mortgage financing continues to be a headwind for home prices. Economic weakness, including the possibility of a recession, would also constrain potential buyers. Given these prospects for a challenging macroeconomic environment, home prices may well continue to weaken.
Case Shiller Chicago Area Home Price Index By Month
You can actually see how home prices have been falling lately in the next graph which plots the actual Case Shiller index values for the Chicago area. November, with a 0.6% decline in single family home prices and 0.5% decline in condo prices, was the 4th month in a row with lower prices. However, when you look at the history you can see how much seasonality there is in the data and this is the time of year when prices come down anyway. Visually it's not clear that prices are falling any more than they normally would. However, the Case Shiller folks also produce seasonally adjusted numbers and they do show a decline for the Chicago over the last couple of months – except November was actually up by a negligible amount from October. So it's not cut and dry that Chicago home prices are falling.
Chicago area single family home prices are still 9.5% above the bubble peak and have risen a total of 79.6% from the bottom of the housing crash. Home prices had been gaining on my long term red trend line until this downturn but now the gap is widening again, currently standing at 17.3%.
Condo prices are 4.8% above their peak, having risen 73.5% from their recent bottom.