For years I found it peculiar that Bronzeville didn't get more attention from real estate developers given how close it is to downtown Chicago and how relatively affordable it is. I know that during the real estate bubble a lot of people got badly burned in Bronzeville – both developers and buyers – so I guess everyone was a bit hesitant to take the plunge again. I remember driving around there seeing block after block of vacant lots and rundown houses and concluding that the only way the neighborhood was going to take off was if the city got involved in some big way to encourage development.
It can be a slow and hard process for real estate developers to scatter a couple of new homes across a large area and have it feel like the neighborhood is changing. That's why the city took a deliberate and organized approach in developing University Village 15 years ago and it worked. I always felt like the city needed to do something similar with Bronzeville to get a critical mass in place.
Well, it looks like the city finally figured it out because a couple of weeks ago they announced an initiative to sell 42 vacant, city owned lots in Bronzeville to a group of developers for $1 each. Yep, that's not a typo. $1 each. The initiative is called the Third Ward Parade of Homes. and the homes will be built in the 3900 – 4500 block of South Prairie, Calumet and Indiana, which gives you an idea of just how many empty lots there are there. Just to give you an idea check out the satellite photo below that contains a portion of this area. You can click on it for a larger version.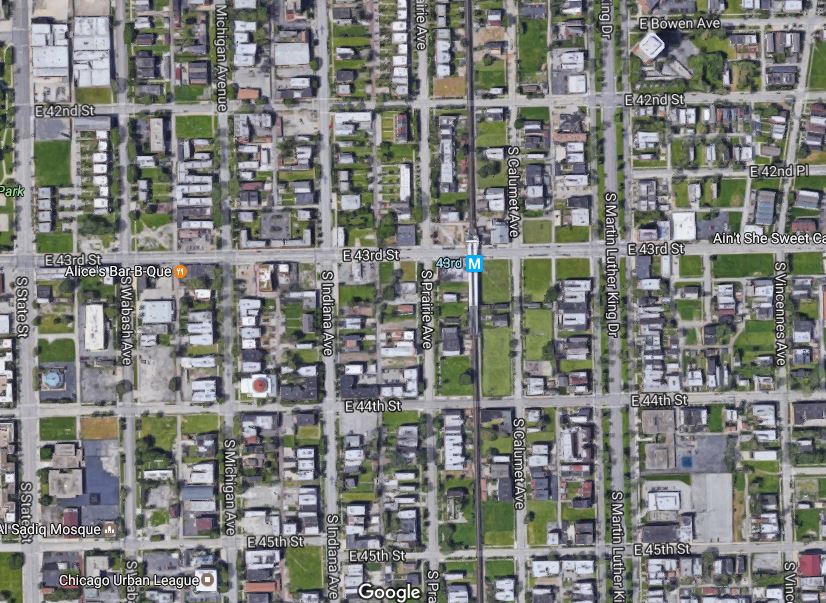 According to the city's release:
R&D Builders, Greenline Parade of Homes, JJ Group Realty, Wade Enterprises & Associates, and Click Development will each build a model home at 4510, 4514, 4516, 4524, and 4546 S. Prairie Ave., respectively. The homes will have three to five bedrooms, modern amenities, and be priced from approximately $440,000 to $589,000.
Hmmm. Maybe those prices aren't really "affordable" but they are more affordable than Lake View.
It turns out that there were ample clues that Bronzeville was making a comeback last year when I did my annual review of new construction in Chicago. Check out all the balloons hovering over Bronzeville in my map and zoom in on it. When I do an updated post later this year I think Bronzeville will be even more prominent.
One example of the level of new construction activity in Bronzeville is a builder called JacobDaBuilder (Yeah, that really is his name) who has either sold, or has for sale 7 homes in Bronzeville in the last 12 months. Check out their new listing at 4903 S Wabash. $430,000 gets you a 3000 square foot brick (maybe just the front is brick) home with 4 bedrooms and 3 1/2 bathrooms – just to give you an idea of affordability in the area.
And eventually attention will turn to the existing housing stock. "In addition to new construction, Bronzeville has many older, large houses that are suitable for rehab projects. With CTA Green and Red line and Dan Ryan access it has great access to transportation while being close to the loop." according to David Dalka who finds himself visiting the area more often these days. It looks like Bronzeville may be ready for a long overdue rebirth.
#ChicagoRealEstate #Bronzeville #AffordableHousing #NeighborhoodNews
Gary Lucido is the President of Lucid Realty, the Chicago area's full service discount real estate brokerage. If you want to keep up to date on the Chicago real estate 'market, get an insider's view of the seamy underbelly of the real estate industry, or you just think he's the next Kurt Vonnegut you can Subscribe to Getting Real by Email using the form below. Please be sure to verify your email address when you receive the verification notice.