I think the last time I wrote about the importance of professional photos was more than 7 years ago: Professional Real Estate Photos Make World Of Difference. Of course, surprisingly, many realtors continue to use pretty bad real estate photos in their listings. I think what's even more surprising is that home sellers continue to hire real estate agents that are screwing up their listings in a variety of ways – even for $1 MM+ listings. Are they all hiring friends and family?
And do I really need to explain how important it is to have good photos for your listing? You've got some homebuyer flipping through online listings, alone, and trying to make a split second decision as to whether or not they want to see your home. You bet those photos make a difference.
Amateur Photos
The worst offense is using amateur photos. We ran a couple of checks and found that roughly 37% of Lake View listings had amateur photos and 65% of Buffalo Grove homes had amateur photos. How do we know they are amateur? It's always really obvious with one or more of the following telltale signs:
Grainy
Out of focus
Blurry
Underexposed/ Overexposed
Strange angles
Stupid closeups – e.g. a doorknob, a door knocker
Stupid subjects – e.g. a hallway
Poorly framed
Shot with a standard focal length lens
Poorly staged – may even have people, animals, trash, or clutter in the photos
And, yes, sometimes even the so-called "neighborhood experts" and top producers are doing this. Some of these are so bad that we've put together a whole collection of some of the worst real estate photos ever.
But even when the realtor is not trying to compete for the biggest idiot award there is no substitute for professional photos as shown in this side by side comparison from that post 7 years ago.


Which place looks more inviting?
Standard Vs. High Dynamic Range Photos
But even the standard professional photographs that many Chicago realtors use leaves something to be desired. Colors can be off and windows overexposed. If you look at most listings you will see that the windows are washed out. That's not too cool when you are trying to sell a $1 MM condo with a killer view of Millenium Park.
That's why we upgraded our photography package to high dynamic range photos a while ago. HDR photographs are created from multiple exposures taken for different lighting levels in the scene. For example, you need a longer exposure for inside the room than looking out the window. Then they create a composite photograph using the best exposure for each part of the scene. I have no idea how it works other than it's magic – like Shazam.
Even when you are not looking out the window the difference can be dramatic. The two photos below broke the camel's back for me and were the reason we upgraded our photography. Our clients had repainted their home to a more modern color but the standard professional photos came out with a yellow tint. You couldn't tell the real color of the walls. Then we reshot the listing using HDR photography and it looked SOOOOO much better.
Ignore the staging differences in the two photos and pay attention to the colors and the differences in glare around the light fixtures. Notice how the kitchen backsplash is barely visible in the first photo. And, yes, the colors in the second photo are indeed correct.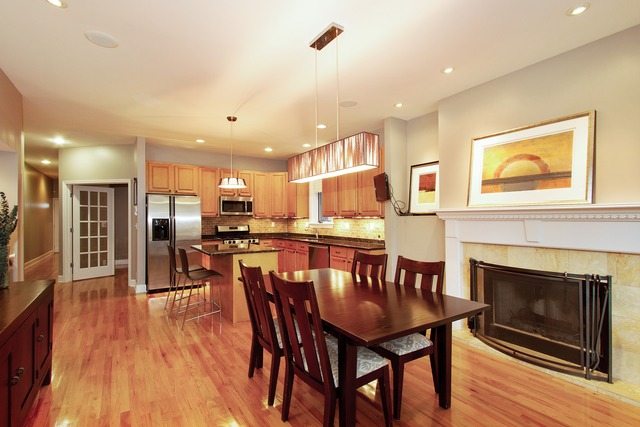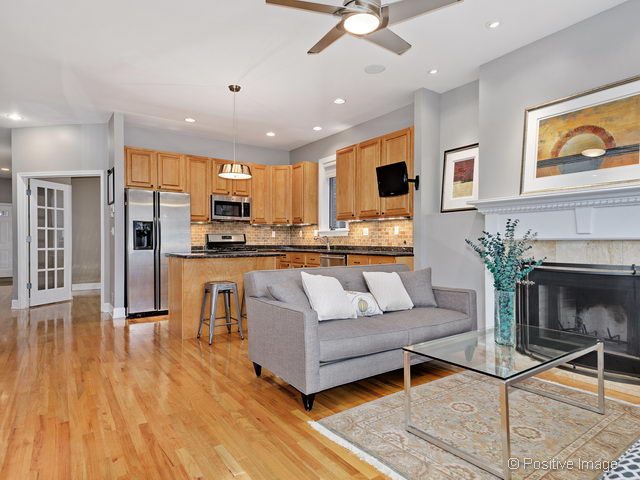 Adding Professional Photos Later
This one baffles me and it's not uncommon for top producers to pull this stunt for reasons that totally escape me. They will launch the listing with just an exterior shot or maybe amateur photos and then add/ swap out professional photos a day or two later. But guess what? Within 24 hours most of the buyers that are going to be interested in your home have already looked at it without professional photos and have made their decision. They may have even written it off. Then when the professional photos get added later…nothing. They do NOT get notified. So you've totally missed your opportunity window.
The only thing I can figure out is that these realtors either don't care or they don't believe it makes a difference. But if they don't believe that marketing makes a difference then why are they charging a high commission?
There is also possibly a technical reason for launching quickly with bad photos that has to do with the MLS rules about the timing of listing a property. But if these agents haven't figured out how to work around that then God help them and their clients.
How Do Realtors Get Away With Bad Real Estate Photos?
There has to be an explanation for why so many listings have bad photos but there are only so many possibilities:
Home sellers don't think it makes a difference. But then why are they paying high commissions?
They aren't aware of the differences and how it can impact their sale.
They are focused more on who the realtor is instead of what the realtor is going to do for them
They feel obligated to hire a friend or family member and just suck it up along with the high commission
Go figure. It's just another real estate industry mystery.
#HomeSelling #BadRealEstatePhotos
Gary Lucido is the President of Lucid Realty, the Chicago area's full service discount real estate brokerage. If you want to keep up to date on the Chicago real estate market, get an insider's view of the seamy underbelly of the real estate industry, or you just think he's the next Kurt Vonnegut you can Subscribe to Getting Real by Email using the form below. Please be sure to verify your email address when you receive the verification notice.