Thanks to RealtyTrac (part of Attom Data Solutions) we have updated October data for Chicago foreclosure activity which I have used to update my graph below. Although the data shows a spike in overall activity defaults, which are the key metric, didn't really change much. Since defaults feed the foreclosure process this is a good thing. Out the back end of the pipeline we have bank repossessions and auctions. Auctions didn't really change much either but bank repossessions almost doubled from last month.
As I've pointed out before it's a good thing when foreclosures are concluded and the affected homes can be placed back into circulation so seeing bank repossessions spike is actually encouraging.

Chicago Shadow Inventory
The ultimate measure of how well we are doing with respect to working through the foreclosure backlog is the shadow inventory number. I've been tracking Chicago's shadow inventory since 2013 and we've made very nice progress. See the graph below. After a sizeable decline in September October only drifted down slightly. Nevertheless, the October numbers represent a new record low since I've been tracking this: 9625 units.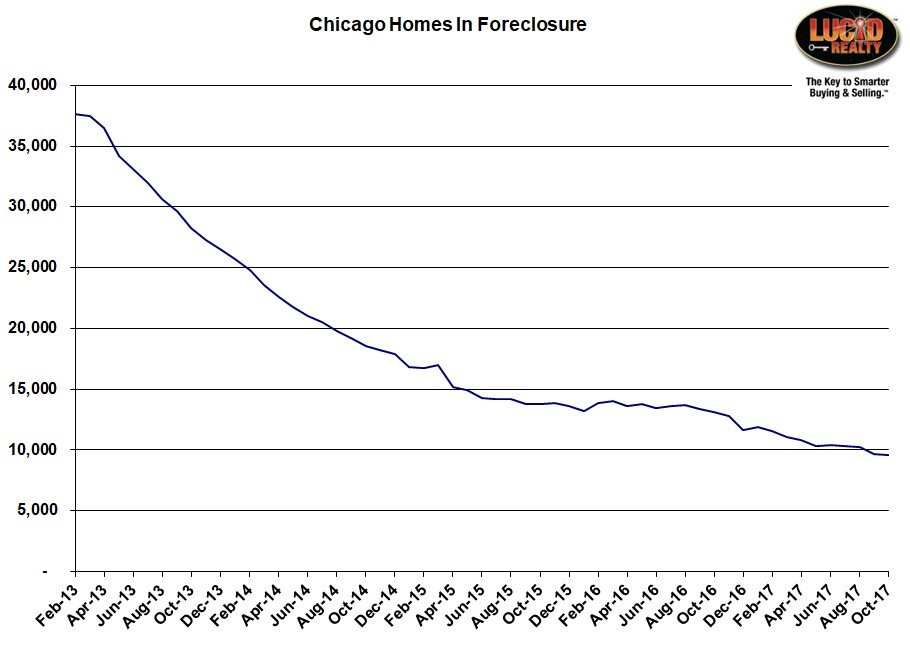 #Foreclosures #ChicagoForeclosures
Gary Lucido is the President of Lucid Realty, the Chicago area's full service discount real estate brokerage. If you want to keep up to date on the Chicago real estate market, get an insider's view of the seamy underbelly of the real estate industry, or you just think he's the next Kurt Vonnegut you can Subscribe to Getting Real by Email using the form below. Please be sure to verify your email address when you receive the verification notice.